Please note: This blog was written before COVID-19, you should always follow the latest guidelines for your school.
With the new year in sight, it's the perfect time to introduce the power of music and singing to your school. This blog post will provide you with simple, achievable ideas to introduce the benefits of bringing more music to your primary school curriculum. 
Schools are being asked to provide a broad and balanced curriculum, but how can this be achieved? You have a limited budget, perhaps no specialist music teacher and, in some cases, no real inclination from staff to make music and the arts a priority – this could be due to their lack of confidence, limited interest from senior management, or the fact that there are simply too many other priorities!
However, it seems like almost daily there's another new piece of research demonstrating the incredible impact that singing and music can have on the whole community. The results of our recent report,
A Singing School Is A Successful School
, surprised even us, with schools reporting a myriad of ways in which their school became a happier place. A wealth of research demonstrates some of the benefits:
Improvement in overall wellbeing
Increased confidence
Positive behaviour changes
Improved curriculum results
Research supports the premise that music engagement helps develop areas of the brain that relate to social, language and reasoning skills, as well as memory. 
So, can it be that difficult to kick-start some musical engagement to benefit everyone and link to a broad and balanced curriculum? It's not only about the skilled musician taking a singing assembly or organising whole-school performances. It's not about how much money you spend on music. It's about the impact expenditure has overall. You need to be creative and consider a whole-school approach. Singing doesn't just have to feature during timetabled music lessons, it can be integrated into any subject and at any time during the school day, you just need to know how.
We've created a simple, step-by-step guide to inspire you with 25+ ideas, broken down term by term, starting with the Autumn term. Beginning with tips to introduce more singing and music in your school, encouraging singing/musical activities across the curriculum, with the goal of becoming a singing school. Throughout the process, you'll notice the positive impact that singing and music engagement has on your entire school community, from confidence to well-being, whilst working towards providing a broad and balanced curriculum.
Of course, you don't have to stick to our timetable – do it in a way that works for you and your school! Below we are giving you some suggested ideas for each term to get you started. Each one is explained in more detail below, but we have so many more to share with you.
Click here to download the full guide
to kick-starting singing and music in your school, which includes a printable version of the table for you to customise and complete to highlight your key actions which you will want to focus on.  
During YEAR ONE try some of the following: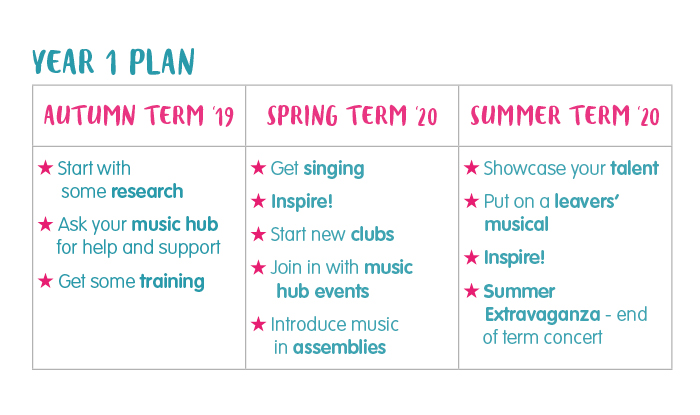 Start with some research
Although it's tempting to dive straight in and get singing, it might be worth doing some initial research. Perhaps begin by establishing a baseline with all your stakeholders. See what musical talent you can find in the staffroom and ask for help and support. You don't need to be experts; the children won't know if you're grade 1 or 8!
Introduce music in assemblies
Invite children who play an instrument or sing to showcase their talent by accompanying or even leading a singing assembly. Other children will be encouraged to join in, maybe by providing simple percussion. Don't be afraid to let the children join in and experiment, this could be the start of your school orchestra.
 
Ask your music hub for support
If you haven't already done so, get in touch with your music hub! They are there to support your delivery of the music curriculum, start choirs and so much more.
 
Get singing
Start a choir with the whole school, or by age group
. Don't audition the children, their enthusiasm will be the most important thing! Be sure to pick songs that are appropriate for their vocal range - a musical theatre or pop song might not be suitable. If you aren't sure what to choose, take a look at Out of the Ark Music's
Sing™ series
to get you started.
Inspire!
Give pupils a taste of different kinds of music by inviting local musicians or groups to perform in your school. Your music hub youth choir, orchestra, or local secondary school would be a great starting point.
Showcase your talent
Hold a musical soirée for budding instrumentalists, singers and composers. They need to be encouraged and playing to an audience will be recognition of all their hard work, but also great fun!
Continue into YEAR TWO and try out some of the following: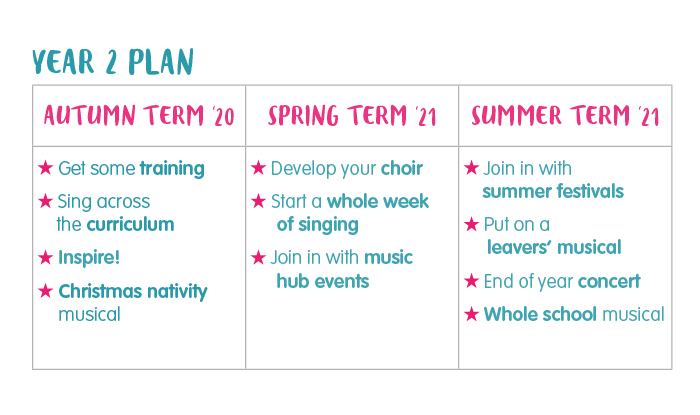 Click here for the full guide and 25+ achievable ideas
.
Even if you try only a few of these ideas, by investing time in developing singing and music in your school you'll see the benefits. The outcomes will be much greater than you could imagine, not only for the children but for the whole school community. You'll also have made a start on delivering the broad and balanced curriculum.
For training opportunities why not have a look at the
Out of the Ark Music Workshops
, designed to help any teacher gain confidence with delivering the music curriculum.
Written by Anna Edwards – Out of the Ark Music Team
(First published January 2019)
COMING SOON!
There's a song inside every one of us – it's part of being human! So says our very own Pete Taylor who tells us how singing has shaped his life. Pete has had a hugely varied career as a freelance baritone soloist, choral singer, choral director, singing teacher and music educator. He is now Education Development Editor for Out of the Ark Music. Look out for his blog post, coming soon!

USED IT? LOG IT! Most schools have a CWCL licence from Christian Copyright Licensing Limited (CCLI) - more information can be found here. This licence grants permission to display song lyrics and music from Out of the Ark Music's Words on Screen™ Singchronize™ Player and CD ROMs, on any projection screen as well as download and share lyrics and music. Whenever you use our songs, please make note of your usage and then log your songs on your CCLI copy report, so that song writers and copyright holders are paid for their work.
Out of the Ark Music has been providing schools across the country – and world – with wonderful primary school musicals and primary school songs for nearly 30 years. Our Christmas musicals and nativity plays make children sparkle and shine, year after year, as they proudly perform their school Christmas play. Our extensive collection of fun and joyous Easter songs, harvest songs, school assembly songs, leavers songs and even space songs, fill schools with laughter and give students and teachers alike, a reason to sing every day of the week. We're glad you're supporting us in our dreams of creating the best music for schools around the globe. Read more about us here.
Click here to post a comment.